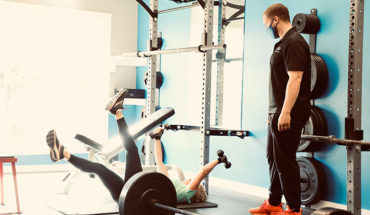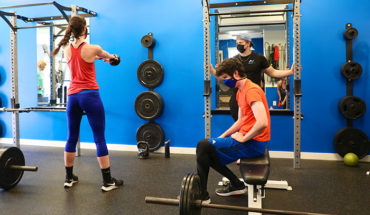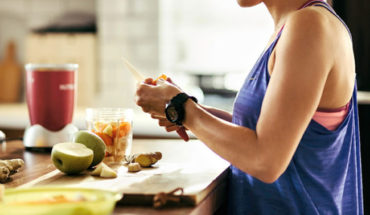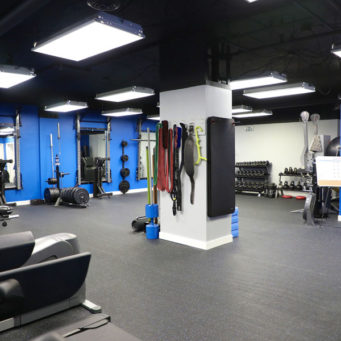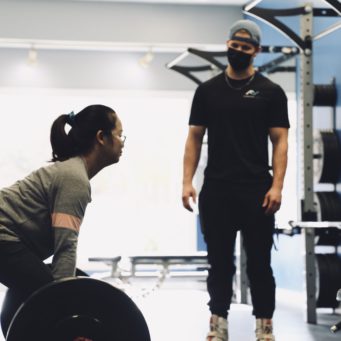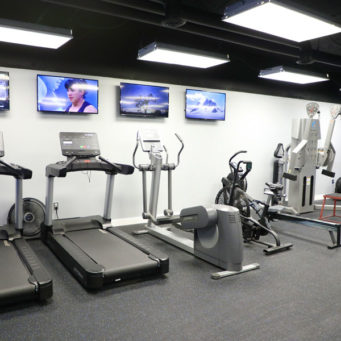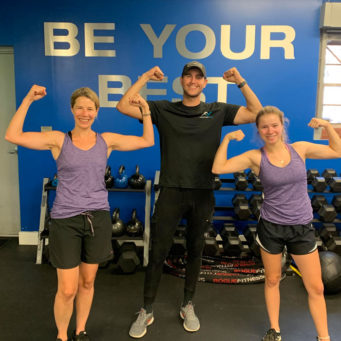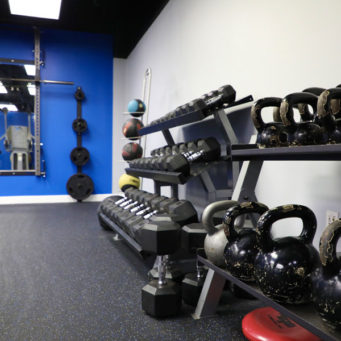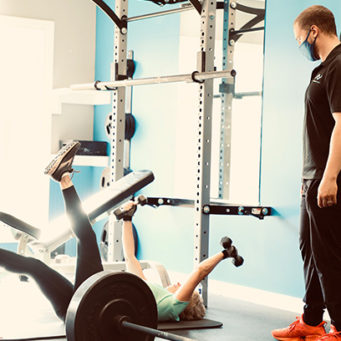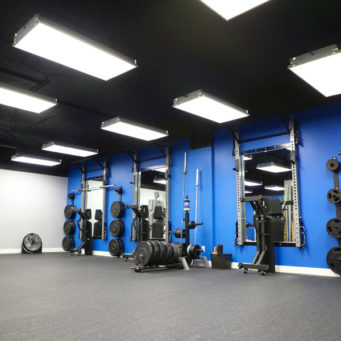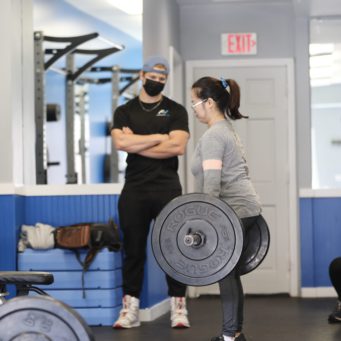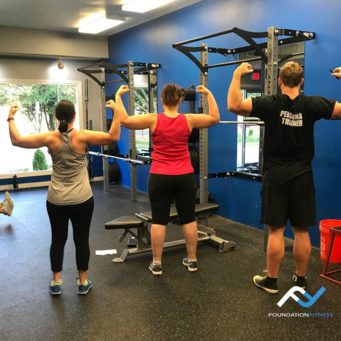 I have been training at Foundation Fitness with Collin as my trainer for four months now and have improved a lot already! I understand how to manage my nutrition and my strength has nearly doubled! The onboarding process was smooth and the other personnel are great as well. I am sad to say Ill be leaving the gym for a few months because of my work but would love to work with Collin in the future!

Jenny Tran
21:08 20 Sep 23
Everyone is so great! The whole crew from Lance and Patrick to Angelo and Stephen are so supportive. The whole process was easy and they are so supportive!

Jamie Rhudy
16:46 03 Aug 23
As a former college athlete, I've never felt satisfied with my experience at typical gym chains around here. I wanted a community feel with qualified coaches that could personalize my workouts and push me. I also have a connective tissue disorder and old injuries that can be difficult to accommodate. Angelo and Steven immediately made me feel like this was the place for me. You can choose 1:1 or small group sessions and your frequency. They paired me up with a small group of likeminded women 2x a week. Steven has done a great job of tailoring our workouts to our unique abilities and goals, and even though I'd rather rag on him than compliment him, he makes each session fun. 🙂 Each time I'm in the gym, there is a diverse group of individuals there, from first-timers to competitors, and all are friendly. I am happy to be a part of this community and look forward to going there each time.

Lacey Lomax
14:48 03 Aug 23
The perfect balance! I always have a great time joking with the trainers and other clients, all the while getting in a hardcore workout. Steven, my trainer, is very knowledgeable, he always is prepared with a thorough workout, he shows the proper technique, and helps to guide my diet as well. When soreness or injury arise, he knows how to finesse certain movements so it doesn't hurt anymore or how to stretch out a particular sore muscle. I would highly recommend Foundation Fitness to anyone who wants to see results, have a good time, and be held accountable!

Alissa Knapp
14:44 03 Aug 23
I started training with Steven three years ago and haven't looked back! His knowledge and ability to break down movement is unmatched. Not only have I changed myself physically, but I've gained so much from training. I'm more confident (which maybe the world didn't need) and it's all around been a wonderful addition to my life. For expert training and community, definitely check out FF in Annandale!

Morgan LeTellier
14:31 03 Aug 23
Staff is super friendly and knowledgeable. Great intense workouts. They even catered to my 70 year old mother in law and gave her a great workout.

The team at Foundation Fitness Annandale is fabulous! Collin and Angelo make training fun and challenging at the same time. The atmosphere is friendly and non-intimidating. Over the last three years, the team has adjusted my training and personalized workouts to my style and goal. I am well on my way to my goals and I highly recommend this team!

Kathryn Markwell (Katie)
11:26 27 Apr 23
I was hesitant on going…I felt like I would be embarrassed and laughed at for not being the strongest guy kind of thing. Angelo on the first day made me feel right in place from day one. I went from starting at light weight to heavy with his training methods in a heart beat. My muscles and body stopped aching and I felt 10 years younger. As I progressed through after a couple months, we got on a diet plan and I dropped 16 pounds in two months in the healthy way…still eating carbs and other items but in a healthier aspect. I then transitioned to working out 3 times a week and mixing in a HIT training style for a couple of those days a week with Caleb…I love it. I did CrossFit and this is in that same realm but more targeted to what you need or want to get better at. I wish I had these guys when I was younger…hard telling where I might actually be in my life with sports and other activities or less injuries. Highly recommend and to me…these guys are almost like I'm working out with best friends and makes it fun to go workout rather than the "gym" feeling of thinking you are out of place or not doing the right exercises alone.

Matt Meyer
00:33 22 Apr 23
Collin is pretty cool, knows how to dial things in with workouts + diet for max goal progress, it's a good place to do your stuff

Bottom Line: This place is amazing (especially if you're *not* a gym person) and well worth the investment.I've been at Foundation Fitness for three months now and can't imagine a better gym experience. As a work-at-home mom with two jobs and part-time homeschool mom of three young children, I give up my ONLY TWO FREE MORNINGS per week to be a FF and have zero regrets. They're two of my favorite mornings every week.After having my kids and developing an autoimmune disorder in the process, I spent a lot of time focusing on nutrition but just feeling totally lost when it came to exercise. Enter: Foundation Fitness. After a thorough intake, I was paired with my trainer - Collin - who is a perfect fit. He's always prepared for my workout, keeps track of my progress, teaches me how to lift safely, is encouraging without being weird, and doesn't make me feel like an idiot (a feeling I was quite accustomed to when at a gym...)Like Collin, the other trainers at the gym are friendly, knowledgeable, non-judgmental, encouraging, and flexible (I've even showed up with my 7 and 9 year old in tow and they rolled with it!). The gym is also spotlessly clean. In short - FF is wonderful!

Danielle Yvette Hitchen
18:00 08 Apr 23
I've trained at Foundation Fitness in Annandale for 9 months now. I signed on at the age of 49 because I wanted to begin my 50s stronger and healthier than I was in my 40s. My trainer Steven B did a thorough intake and made sure he understood my physical limitations and my goals to overcome and exceed them. In the 9 months I've trained with Steven I have seen real, life changing results. Physically I am much stronger than I was in my 40s and have a considerably better understanding of proper lifting technique. Steven has a tremendous amount of knowledge and he knows how to motivate without being overbearing. All the trainers here give their clients their undivided attention to make sure you are getting the max out of your time spent with them. If you've put on a bit (or in my case a lot) of weight during the COVID isolation that won't go away, come here and this team will get you back into fighting form. Highly recommended!

Ray Nguyen
04:35 03 Apr 23
I joined Foundation Fitness of Annandale in November 2022 and am still going strong! I am more than happy with the personal training I receive. My trainer (Angelo) is passionate about his job. His enthusiasm is a great motivator—it's exactly what you need to push yourself. If you want to reach your goals and make changes to strengthen your body, I can't say enough great things about Angelo. He will help you get the job done! He clearly knows his stuff and is so knowledgeable about the principles of strength training and fitness. I see the changes in my body and I'm getting stronger every week and I'm feeling better! Not only are the other trainers (Steven and Caleb) just as knowledgeable but I can really see they enjoy helping others get fit. Just a positive, positive vibe at Foundation Fitness and the trainers are all serious about helping you make the best version of you! #1 personal trainers around!

My Foundation Fitness experience has far exceeded my expectations! Some context... always athletic and active but major back surgery some years ago and recently turning 60 had taken a toll on my overall health and fitness... my daughter had trained at the Annandale gym before heading off to JMU this past fall and had great things to say about the FF Team, gym experience and Lisa, her trainer. Knowing I needed to change the trajectory of my health & fitness and with some trepidation, I scheduled a consultation and started my FF Training journey. The past 7 months has absolutely improved my health, fitness, and quality of life thanks the knowledge, experience, encouragement, and tuff love at the right times to push me beyond my doubts :)My gratitude to Lisa getting me started, Steven who's always pushing with a smile and making me better, and confidence and genuine passion of Angelo and Patrick for people. Thank you!Never too old or out of shape to start a good thing... My story 🙂

Great place, trainers really put in the effort to help you improve.

Foundation Fitness has been a great place to achieve my fitness goals. All of the trainers here are exceptional in their knowledge of nutrition and workout technique. My trainer, Steven, has helped me fix quite a few mistakes I've been making as a somewhat regular gym goer and my strength has been through the roof because of it. I am only a couple months in and can't wait to see what I can accomplish with their guidance by the end of it. - SLF

Peter Brady
23:09 13 Dec 22
Best personal training gym on the planet! Angelo and his team of Jill, Steven and Lisa are awesome. Great family atmosphere. All the equipment you could ever need. They work with varying levels of personal fitness - from beginner to competitive athletes. Don't hesitate to check them out!

Clinton Markwell
23:46 15 Aug 22
This place is a hidden gem! I've been training here for over a year and I honestly could not recommend it enough. I train with Lisa, who is very knowledgeable and makes the workouts safe and fun, but I've gotten to know the other trainers as well and I would recommend any of them. I'm a plus size girl and the environment is very body positive and makes me feel safe and secure. We're all there just to get strong! If you're considering weightlifting or personal training of any kind, I couldn't recommend this place more.

Hannah Navarro
17:14 21 Jul 22
I've had a fantastic experience training with Lisa! Very friendly environment, professional, but also fun. I also appreciate the location being accessible and not too big. Highly recommended!

Sean Navarro
17:09 21 Jul 22
Great atmosphere and trainers! I have been training with Steven 2-3x a week for about about 10 months now and have nothing but good things to report. Strength training paired with nutritional advice has helped me get stronger, lose weight and feel great. He tailors every workout to make it fun and keep it challenging. 10/10 would recommend! 🦾

Moises Garcia
17:20 19 Jul 22
Foundation fitness (Annandale) is fantastic, I've been working out there with my trainer Lisa for about 5 months now, she's knowledgeable about many aspects of fitness and has helped me meet hit many strength goals. All the trainers here are great and create a really welcoming atmosphere. From the trainers to the members, its a really supportive fitness community. This is my happy place!

Theresa Tovar
00:14 19 Jul 22
Started going here shortly after a lower back injury and they helped me with strengthening the muscles around my back and improving my flexibility/mobility. I also lost 30 pounds and feel better/stronger after 20 weeks thanks to Steven's nutritional/diet guidance. The gym is on the small side but it has everything you need. Everyone's really nice, the pricing is really fair and they are very understanding when life things come up. Would recommend for anyone trying to get in shape or lose weight.

I have been training at Foundation Fitness for a few months now. All the trainers really care about creating a welcoming environment for everyone. My trainer Lisa has done a great job teaching me the proper way to lift while creating workouts tailored specifically to me as well as helping with proper nutrition and healthy eating. I have noticed a significant increase in my all around strength and fitness. Would recommend this gym to anyone looking for great personal trainers.

Angie Arquette-Overman
13:24 12 Jul 22
Great program because the trainers here care about you!

Dega schembri
19:31 03 May 22
I've been training with Lisa over the last 4 months and it's been such a great experience! She's knowledgeable, fun, and motivating. I'm meeting my goals and learning so much thanks to her. Also, in general, the individualized experience that FF offers is perfect for me. It's helped keep me consistent and enjoy working out. I also appreciate the cleanliness and organization of the equipment. I highly recommend :))

Diana Mateo
17:44 27 Apr 22

Wayne Gooden
20:21 16 Apr 22
I have been working with the amazing crew from Foundation Fitness of Annandale for many years. They are top notch. Angelo is at the helm and doing a fabulous job! I highly recommend this location. They will help you to "Be Your Best"

My friends have been raving about this place!

James Zimmerer
20:19 16 Apr 22
We are so grateful to have Foundation Fitness! We were looking for a personalized gym experience for our 13 year old son. We our so happy to have found Steven and he is a positive role model for our son. He creates a driven atmosphere and motivating. He also takes the time to explain nutrition and all of the things to be successful at training. Steven makes it fun too! Highly recommend!

Michelle Foye
03:01 01 Apr 22
I recently started working out here with Steven and he has been fantastic! His instruction and motivation are excellent as he brings a wealth of knowledge and experience to lifting and helping you to achieve your individual goals. Highly recommended!!

John Laughlin
23:07 24 Feb 22
The best and friendliest people, coaches and owners in the area.

Vincent Accardi
15:15 31 Jan 22
I've been working out here for about 5 months, and it's been the best decision I've ever made! Very family oriented, so you feel welcome! Everyone has been great but Steven is my PT, and he's awesome!

David Parces
16:54 21 Jan 22
I've been training at foundation fitness for over a month and found it to be really motivating and exciting. The staff/trainers are always welcoming and very friendly, extremely helpful and encouraging.They train you well and proper with the correct tools and they always look after your safety, even when you aren't aware. They guide towards nutrition, offer friendly tips and reminders prior to sessions and always train you whenever it's convenient for you, which really does help with my fluctuating work schedule. I'd recommend this place to anyone who wants to set life changing goals, nothing more I can ask for, than a great gym and an awesome trainer (Lisa, train with her y'all, thank me later 😍) at a convenient investment worth my time and money 😊

Samer Ahmed
16:57 18 Jan 22
I have been going to Foundation Fitness for about 6 months now and joining was one of the best decisions I've made. I love working one-on-one with Lisa—she's super knowledgeable, knows when to push you further or adjust when things don't feel right, and brings so much positive energy to each session. The other trainers and clients are all really friendly and supportive as well—very much a community feel. Since joining I feel so much stronger and I am well to my way to reaching my fitness goals. This is my first time working with a trainer, but I highly recommend for anyone for looking for personalized guidance on their fitness journey.

Emily Lundquist
01:48 30 Nov 21
if you're looking for personal training your search should stop right here. Great people that will never make you feel out of place, unwelcome or like you don't belong. They teach you how to embrace fitness as a life-long journey instead of just focusing on an end result. Can't beat it!

What a fantastic studio! If you are looking for a place that is inviting, has great vibes, a supportive community and trainers that will push you to be your best, look no further. I recommend Foundation Fitness of Annandale to everyone at any fitness level. Whether you have never worked out in your life and are just getting started or you are at a competition level, your needs and goals can be reached and exceeded here. They offer a free consult and you can see for yourself what a wonderful environment they have there. Love being a part of the found fit community!

I love the welcoming atmosphere of this gym. My trainer Jill is absolutely amazing. She offers plenty of insight on both fitness and healthy eating. Before I started here, I was in so much pain every day due to previous knee surgeries and was having trouble doing typical tasks and working my job. Thanks to Jill, I am able to move better, have more balance and am in way less pain. I'm so thankful to all the support that I have found at this gym! I highly recommend!

Cierra Griffith
23:07 22 Feb 21
I think you can go to just about any gym to work out. But if you want to go to a gym that will change your entire outlook on fitness and health, you should go to Foundation Fitness Annandale.I live with severe major depressive disorder, and since the dawn of time, everyone has been telling me that exercise will help. But I never knew what to do in the gym, so I didn't bother trying. However, when my depression became very dark about two years ago, I decided to try training. Three months, I told myself. I'll give it three months.Then I met Angelo Demark at Foundation Fitness Annandale and two years have passed and I'm still here. Angelo profoundly changed my life. Yeah, I lost weight, I gained muscle, I feel physically "fitter," but there are other benefits to working with trainers that I feel should be highlighted — like their impact on your mental health. Angelo pushed me on days when I could be pushed, he took workouts slow on difficult days, he made me laugh when I needed it (so, every day). He was supportive and compassionate and stable.I like to say that Angelo didn't help make me "feel good" about just my body — he helped make me, as a whole person, well.I'd also like to shout out Steven Bybee. He's another fantastic trainer with a great personality — always made me laugh and feel welcome and wanted in the space, which was a feeling I didn't know I needed until I had it. These guys are not stereotypical, intimidating "gym bros;" they are total and complete sweethearts.I'd also like to thank Patrick Bresley for accommodating me when I needed it. When he was signing me up, he told me that this gym is like a family, and I attempted to call his bluff at one point with something I considered to be an outlandish request. It was not a bluff. He and Angelo took care of me like family when I needed it most.Okay, that's all. I know this is over-the-top for a Google review, but I'm moving soon and leaving the gym — which is harder for me than leaving some of my friends in this area (I hope they don't see this lol). Also, I really want a Foundation Fitness t-shirt before I go.Basically, go to this gym. It's worth it. You're worth it.

Christine Allen (Chris)
04:29 03 Feb 21
Foundation Fitness in Annandale is hands down the best gym I've participated in! It is not like your typical gym experience; it's extremely personable and tailored for your particular goal. The trainers are all very committed, knowledgeable and encouraging! The gym also includes nutritional guidance to help improve your overall lifestyle and reach goals quicker. I've only been there one month so far and am already feeling stronger and healthier then ever.

I could not be happier with my experience at Foundation Fitness over the past 2 years. My current trainer, Angelo, challenges me, is tough on me when needed (typically related to wine), and also suggests ideas that are realistic given my nutty life! All of the trainers there are friendly and welcoming. The community feel is something I really value and I truly look forward to walking in the door every Tuesday and Thursday.

Foundation Fitness has been a great personal training experience the past 6 months. I have been focused on finding a combination of cardio, endurance, weight training, and nutrition to offset the challenges that come as a working mom and slowing metabolism. My trainer Mikayla finds a great balance between keeping me accountable, being flexible with my schedule, and crafting creative workouts that keep things interesting and aligned with my personal health goals. Both staff and other clients are friendly and supportive and it's made working out shift from a necessary evil to an activity I look forward to. Best of all, I weigh less than when I got married, am stronger than well.. ever, and feel the improvement in stress and balance I was looking for in my life!!

Beth Teigue
00:23 19 Feb 20
This is the best gym experience that I have ever had. I was super nervous about working out with my knees because I have had so much pain when I run or go down stairs. I never thought I would be doing squats with weight and no pain! I have been on several runs since I started and finish without the usual knee pain. Soooo thankful!The workouts are challenging in a good way, and I go home feeling healthy and feeling good about what I accomplished.Also, Angelo, my trainer, and the rest of the staff are super knowledgeable and give great holistic advice about little things that can affect your workouts and body. He is always super positive and that makes the workouts fun.I recommend this place it is worth your time and money.

Stephanie H
03:16 15 Jan 20
i joined a few months ago and really enjoy working with mikayla to get stronger ☺️ they really care about your needs and how your body responds to the workout in general and it definitely has made me more aware of my health and actually care. i def did not see myself liking working out or lifting for that matter but foundation fitness makes me love it! thanks to mikayla 🙂

Great Trainer. I have been training here for 6 months and I am very happy with the trainers at FF Annandale. I like that it is very close to my house. The trainers are friendly and attentive. Mikayla made a nutrition plan and work out plan that are easy for me to learn and maintain. I am hitting all of my fitness goals here.

Tina Hoang
22:07 14 Oct 19
I just want to shout out to Mikayla Kercher, who has been working with me since March. She pushes me hard, flexes when I've had work or knee issues interfering, and has helped me see marked progress since I've gotten started. My experience with the Annandale location has been nothing but positive, and I'm lucky to have landed there!

Maggie Sheer
23:46 01 Jul 19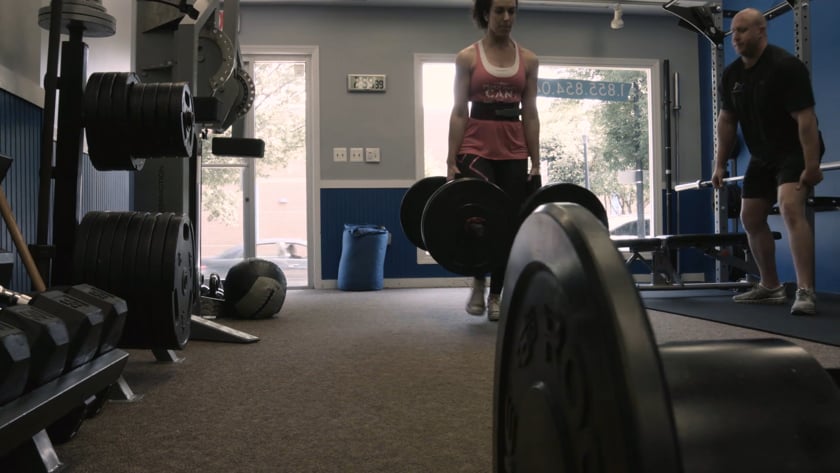 If you're ready to take on the challenge and commitment, join the movement at Foundation Fitness and see what it feels like to #BEYOURBEST!
Join the #BEYOURBEST Movement at Annandale's Neighborhood Personal Training Studio!